Early Native American 1920'S NAVAJO CORALTURQUOISE INGOT SILVER RING SIZE 8.75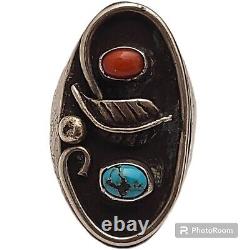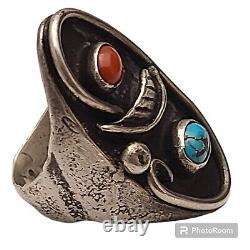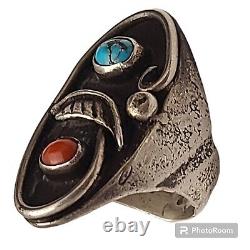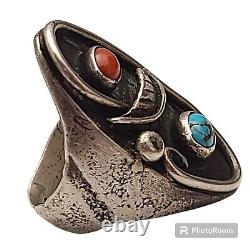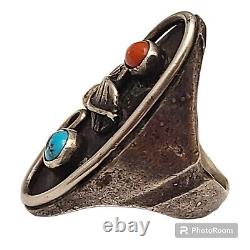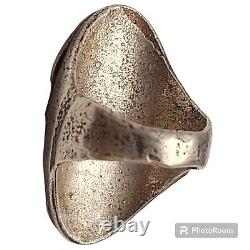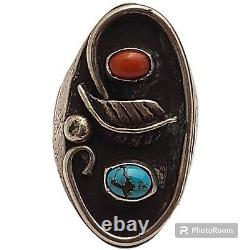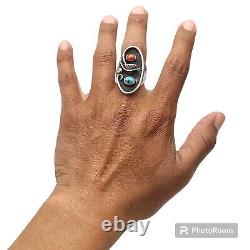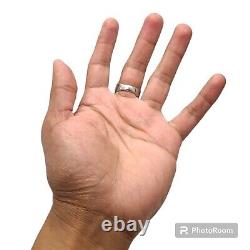 VINTAGE EARLY 1920'S NAVAJO INDIAN coral TURQUOISE INGOT SILVER RING Bold vintage Navajo Kingman turquoise decorated coin silver cast ring. The silversmith starts by melting down old coins (90% silver) and poured a cast of the ring band. Note, old American coins 1964 and older were made of 90% silver as were older Mexican coins.
Not to be confused with nickel silver which has no silver content. The artist has mounted a hard quality old Kingman turquoise and mediterrean coral nuggets set into a fine cut sawtooth bezel. The artist encircles the stone with a tobacco leaf in the middle repeat crescent moon wire and twisted wire with a silver drop aside ring size 8.75 face of the ring measures 1½×18mm 4mmband ring weight 21.8grams no marks but tested as coin silver.
The Navajo coin silver jewelry was made by melting silver pieces together in an open pit fire or a blacksmith forge with bellows. The bellows blew air on the fire to make it hot enough to melt silver solder, which laminated their silver jewelry designs together. Navajo coin silver jewelry refers to the alloy which came about from the melting of coins.
The coin silver used in Navajo coin silver jewelry has less silver than sterling silver (90% as compared to 92.5% in sterling). However since it is older and hand hammered, the coin silver jewelry might be even more valuable then jewelry made from sterling silver. Navajo coin silver jewelry was originally made primarily with U..
Silver dollars, fifty cent pieces, quarters and dimes. These and old metal wagon and harness fillings were melted down and hammered as there was such a lack of raw material. When in 1890 a U. Law made defacing a U. Coin illegal, Mexican pesos were used.
The pesos had been used along side U. Coins before, but were used pretty much used exclusively at that point. Their silver content was a little higher than U. Coins, and that made them softer and easier to hand hammer.
Thus they were actually preferred to U. Coins by some of the early silversmiths. However in 1930, the Mexican coins were forbidden to be exported to the American Southwest. In the 1930s sterling silver in sheets and wire became available, which have been used by Native American jewelers to the present. This brought an end to the making of Navajo coin silver jewelry.
Great addition to your collection?