Early Navajo Cuff Bracelet Silver & Black Onyx & Turquoise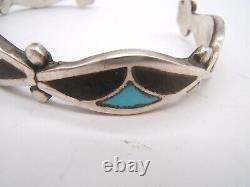 This is a very nice Navajo cuff bracelet. It has black onyx and turquoise and a nice beaded design. It is very nicely done.
It is in very good condition. It measures 3/8" wide and around the inside 4 5/8" and the space is 5/8 wide. It weighs 11.6 grams.