Early Rare Vintage Navajo Royston Turquoise Sterling Silver Bracelet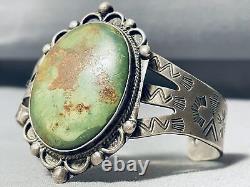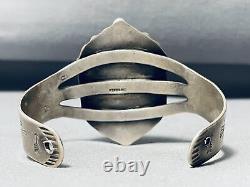 Vintage and Museum Quality Specialists. This is a tremendous vintage Navajo large single stone silver bracelet. This outstanding bracelet contains a center oval shaped Royston turquoise stone. Surrounding the stone are incredible silver works that consist of beautiful wave works, graduating raindrops, and a single silver rope.
This amazing bracelet contains a triple silver shank cuff that graduates into one shank towards the ends. I just love the superior peetroglyph style silver stampings that are located on each end. What I also love are the stamped out dotted works. The center stone measures around 1-1/2" x 1-1/8". The width of the bracelet measures around 2. The inside end to end measures around 5-1/2" with an additional 1-1/4" gap. Royston turquoise is a type of turquoise that is highly valued for its beautiful colors and unique matrix patterns. It is named after the Royston mining district in Nevada, where it is found. When set in Navajo silver jewelry, Royston turquoise creates stunning and distinctive pieces. Navajo silver jewelry is renowned for its craftsmanship and intricate designs.
The Navajo people have a long-standing tradition of creating silver jewelry, and it is an integral part of their culture. Navajo artisans often incorporate turquoise into their silver pieces, as it holds great significance in their spiritual and cultural beliefs. When a Royston turquoise stone is set in a Navajo silver bracelet, it results in a striking combination.
The vibrant blue and green hues of Royston turquoise complement the gleaming silverwork of the bracelet, creating a visually appealing contrast. The unique matrix patterns found in Royston turquoise add an element of individuality to the piece, making each bracelet truly one-of-a-kind. Wearing a Navajo silver bracelet adorned with a Royston turquoise stone not only showcases the beauty of the stone but also reflects the rich cultural heritage and artistic traditions of the Navajo people. It is a testament to the skill and artistry of the Navajo artisans and allows the wearer to connect with the history and spirituality of the Southwest Native American tribes.
If the item breaks we will repair it for FREE. We are flexible and are happy to work with you! All international orders will cost only 12.00.
We also will work with international buyers to help them not pay as much going through the process. Do you own a store?
Nativo Arts wants to work with you! We are the #1 supplier to stores who want to sell the best and finest Native American jewelry. Make us offers today by clicking the blue make offer button at the top of the page! Nativo Arts was established to offer the largest selection of the best quality vintage Native American jewelry in the world, for the best prices. It has taken decades to acquire the collection that we offer to the world today.
From A-list celebrities to average Joe's, we work with everyone from all walks of life. Nativo Arts has supplied a vast number of movies with the best quality Native American jewelry. It is important to respect Native American culture and to realize how much difficulty and hard work an artist puts into a piece. We thank you for your interest and we are happy to work with you! "The Largest and BEST Collection of Museum Quality Vintage Native American Jewelry in the World".