Indian Native American Iron Fireplace Andirons Firedog RARE EARLY MASSACHUSETTS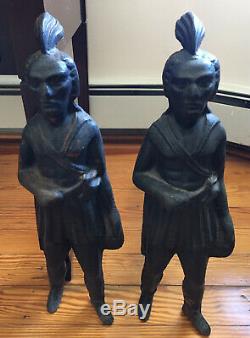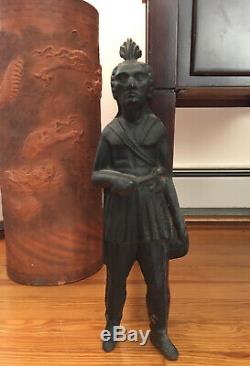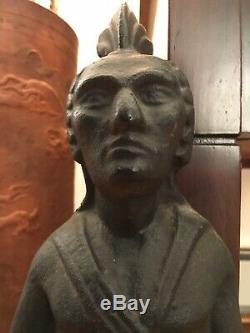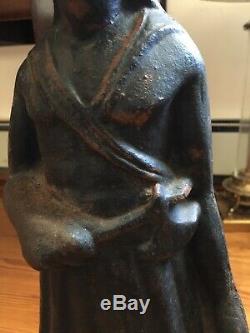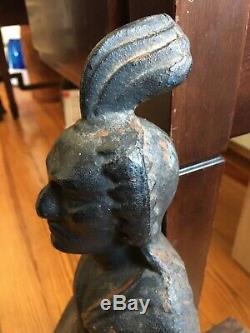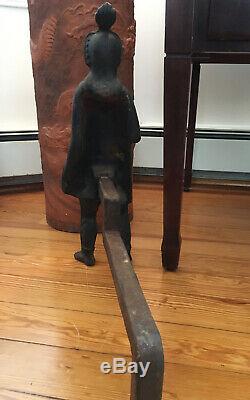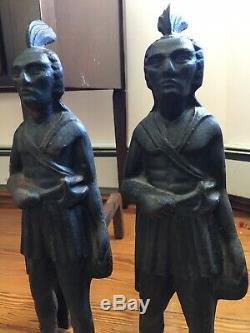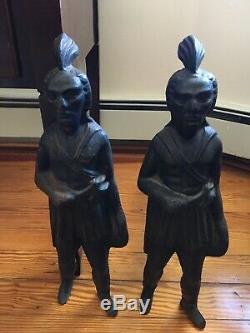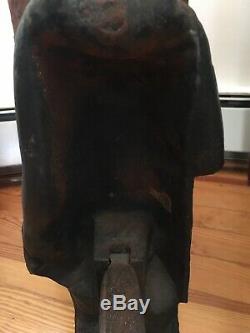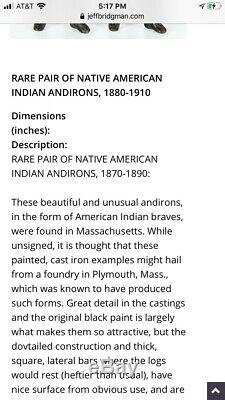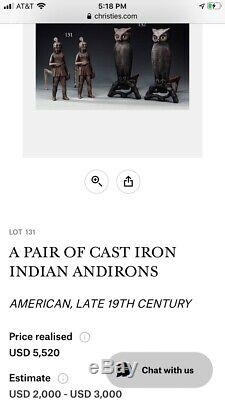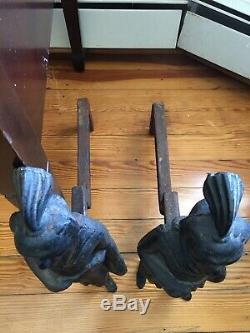 Indian Native American Iron Fireplace Andirons Firedog RARE EARLY MASSACHUSETTS. Incredible set on Native American andirons. Incredibly rare pair, maybe one of the hardest andiron forms to find anywhere.
The form is said to be a representation of Massasoit, friend to the pilgrims in Plymouth, present at the first Thanksgiving, and father to King Philip. The pair has nice original paint with some worn spots on one and both having worn paint on the legs, and a little on back.
They are very heavy, solid cast iron. The leg/rear support of one is solidly stuck in its groove and the other is able to slide in and out of the groove as needed. Im sure the one thats stuck could easily be loosened with the whack of a rubber mallet. They are a valued part of my collection but its time to put them up for sale for the right number. 19.25 tall and 17.5 long approximately.
Massasoit Sachem or Ousamequin c. 1581 1661[1] was the sachem or leader of the Wampanoag confederacy. Massasoit was the grand sachem (intertribal chief) of all the Wampanoag Indians, who inhabited parts of present Massachusetts and Rhode Island, particularly the coastal regions. In March 1621several months after the landing of the Mayflower at PlymouthMassasoit journeyed to the colony with his colleague Samoset, who had already made friendly overtures to the Pilgrims there.
Convinced of the value of a thriving trade with the newcomers, Massasoit set out to ensure peaceful accord between the racesa peace that lasted as long as he lived. In addition, he and his fellow Indians shared techniques of planting, fishing, and cooking that were essential to the settlers survival in the wilderness. When Massasoit became dangerously ill in the winter of 1623, he was nursed back to health by the grateful Pilgrims. The colonial leader, Governor Edward Winslow, was said to have traveled several miles through the snow to deliver nourishing broth to the chief.
Massasoit was able to keep the peace for many decades, but new waves of land-hungry Europeans created tension as the Indians native land was steadily taken over by the whites. When he died, goodwill gradually dissolved, culminating in the bloody King Philips War (1675), led by Massasoits second son.
The item "Indian Native American Iron Fireplace Andirons Firedog RARE EARLY MASSACHUSETTS" is in sale since Saturday, May 30, 2020. This item is in the category "Antiques\Architectural & Garden\Fireplaces, Mantels & Fireplace Accessories". The seller is "riverwalker83" and is located in Boston, Massachusetts.
This item can be shipped to United States.
Type: Andiron
Material: Cast Iron