Outstanding Early 1980's Abraham Begay (Dine') Cuff Bracelet (Overlay & Inlay)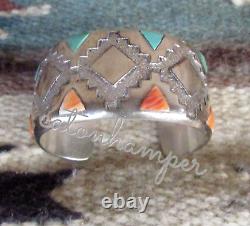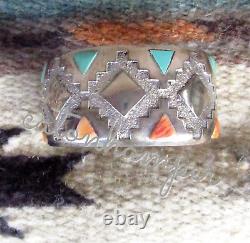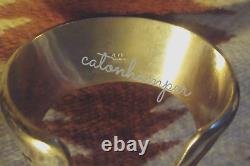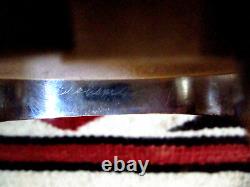 I HAVE OWNED IT AND WORE IT SINCE THEM. THIS EARLY EXAMPLE OF THE SILVERSMITH WORK BY THE NOW FAMOUS NAVAJO (DINE') ABRAHAM BEGAY. THIS PIECE SHOWS HIS SKILL WITH THE SILVER OVERLAY AND STAMPING TECHIQUE AS WELL AS HIS INLAY SKILL.
THE OVERLAY AND STAMPING TECHNIQUE WAS FIRST DONE BY THE HOPI. THE SILVERSMITHS OF THE NAVAJO NATION ALSO ADOPTED AND PERFECTED THEIR STYLE. THE INLAY WORK WAS EARLY DEVELOPED BY THE ZUNI PUEBLO AND SILVERSMITHS OF THE NAVAJO NATION ADOPTED IT. THIS BRACELET SHOWS OFF ALL THOSE DESIGN ELEMENTS WITH THIS OVERALL DESIGN AND INLAY OF TURQUOISE AND SPINY OYSTER.
THE BRACELET IS SIGNED BOTH IN INITIALS AND SCRIPT AND MARKED STERLING ALL ON THE INSIDE. THERE ARE 4 TRIANGULAR CUT INLAID TURQUOISE AND SPINY OYSTER PIECES. THE INSIDE MEASURES 5 1/4.
OUTSIDE MEASURES 6 1/2 WITH 1 1/8 OPENING. THE BRACELET IS 1 1/4 WIDE. I HAVE SMALL WRISTS AND THIS FITS PERFECTLY. I DO NOT HAVE A JEWELRY SCALE BUT THIS IS A HEFTY SILVER PIECE.
I ANSWER HONESTLY AND IN A TIMELY MANNER. THE BRACELET WILL BE PACKED WELL. IT WILL BE IN A GIFT BAG AND WRAPPED CAREFULLY.