Plymouth, MA, Land Sale Signed By Native American Overseer, Early Settlers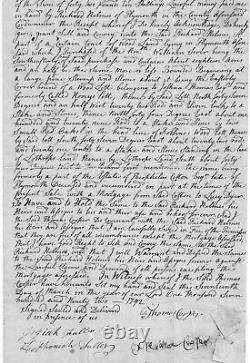 Spooner also served as the deacon of the First Church of Christ in Plymouth and one of the overseers of the Mashpee, Herring Pond, and Black Ground communities. For many years, Massachusetts appointed overseas to provide guardianship over native American tribes.
In this instance Spooner was overseer for the Wampanoag Nation. In addition to the signatures of Thomas Cooper and the two witnesses, the document is also signed by Cooper's wife, Experience, who is not mentioned as a party to the sale. We rarely see early American early documents signed by women. The document was signed on March 17, 1792 and registered on March 20, 1792. The document is very easy to read, written in period dark brown ink.
A couple of breaks repaired with archival tape. A fine early American Massachusetts land sale document.
Our goal is to please every customer. We are pleased to be members of.