Rare! Vintage Sterling Silver Early Zuni Snake Eye 70's Cuff Bracelet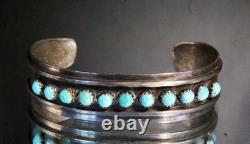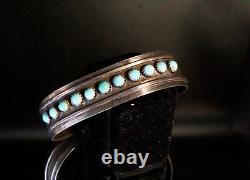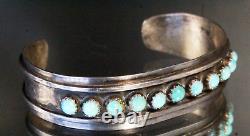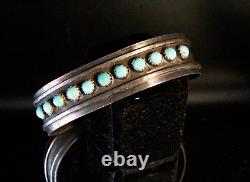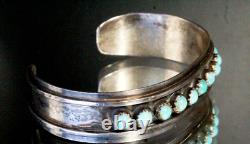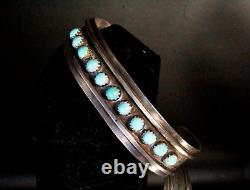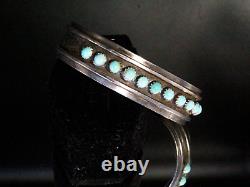 Welcome to Le Belle Jewels Co! DESCRIPTION: Immerse yourself in the rich heritage of Native American craftsmanship with this exceptional vintage bracelet, meticulously crafted by a skilled Zuni silversmith during the 1970s. This piece stands as a rare testament to the Zuni tribe's mastery of jewelry making.
The sterling silver cuff serves as a canvas, artfully adorned with 11 exquisite snake-eye turquoise stones, each symbolizing a connection to nature and spirituality. While the bracelet bears the tarnish and patina of time, these weathered marks only enhance its authenticity and character, a reflection of its journey through history. Weighing 23.5 grams, this bracelet strikes a harmonious balance between substance and elegance. With dimensions of 2 7/16 inches from side to side and a width of 5/8 inches, it offers a comfortable and stylish fit. This rare vintage Native American bracelet not only captures the essence of Zuni craftsmanship but also serves as a wearable piece of art that tells a story of culture, tradition, and enduring beauty. If you have any issue with the item upon receiving, please let us know immediately. We believed that there is nothing we cannot resolve in a good communication.