Very Early Tommy Singer Sterling Silver Turquoise Coral Chip Peyote Bird Ring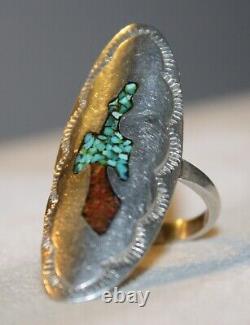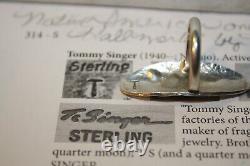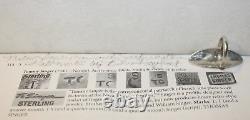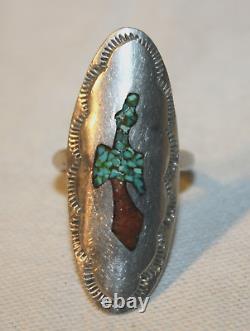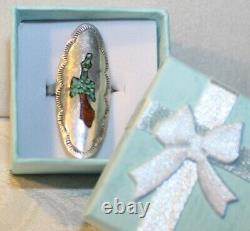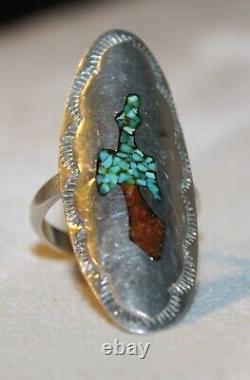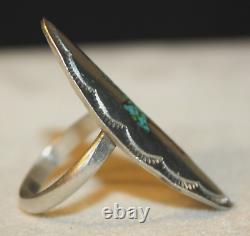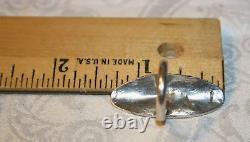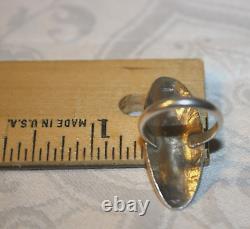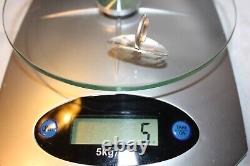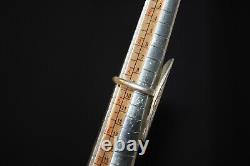 VERY EARLY TOMMY SINGER STERLING SILVER TURQUOISE CORAL CHIP PEYOTE BIRD RING. 1-5/16" tall and 9 /16" wide.
The earliest Tommy Singers' hallmark noted on page 314 in the Native American and Southwestern Silver Hallmarks book by Billie Hougart-2014 edition pictured. PLEASE NOTE: The photographs give the illusion the jewelry looks larger than it is; this is to show you the detail you could not see without a magnifying glass. Please look at ALL photographs posted. There is always one or two photos with ruler measurements in every listing created to give you an accurate. Also, the photographs posted are shot from the actual item no stock photos. The colors may vary just slightly due to light vs. Shadow effect of the flash. The items weighed on the scale are in grams. Used many traditional deities and designs of the Navajo people in his jewelry. This ring is a prime example of Navajo peyote bird design adorned with stampings mixed with Mr. Singers creativity amid his top notch silversmithing. The ring is not marked.
925 or sterling but have been tested positive with no marks or cosmetic damage to the piece. It is common for the sterling mark to be missing in early Native American vintage jewelry. Thomas "Tommy" Singer Tommy Singer was the inventor of the chip inlay technique. Not only is the pendant a great example of turquoise and coral chip inlay, but you can also see Tommy Singer was a master silversmith as well!
Chip inlay is a method where cavities in jewelry are filled with a mixture of crushed stone, typically turquoise and coral, and epoxy resin. The piece is then polished smooth after the resin has hardened. Was born in 1940 and sadly left this earth on May 31, 2014. He lived in Winslow, Arizona where he resided with his wife Rose and their children and grandchildren.
He grew up in a small community of Dilcon on the Navajo Reservation while learning the silversmith trade from his father Tsinnigine Hathali, a Navajo Medicine Man when he was just 7 years old. In the 1960's, Mr. Singer became famous for inventing the use of turquoise and coral chips in silverwork devised from the lingering chips of turquoise and coral left on his workshop floor. While using the "chip inlay" technique combined with his amazing craftsmanship mixed with the abstract modern Native American style of design Mr.
Singer conveyed on his jewelry, he became a household name in the states and abroad. Singer's chip inlay technique was heavily copied in the southwest and even in imports from Asia. In fact, this style of jewelry became so popular in the 1960's and 1970's that you would see it everywhere. Singer stopped creating chip inlaid jewelry and started focusing on the silver overlay method which he originally studied in the beginning of his silversmith career. His silver overlay jewelry exhibited traditional Navajo designs; some incorporating gold in the overlay.
He was also known for carving storyteller scenes with tremendous detail and skill. Tommy Singer was a famous prolific successful artist and those who knew him said he was a friendly and generous man. Today his work commands very high prices which continues to gain in value. Collectors of his work hold onto his pieces with great respect and love. It is hard to find these classic vintage chip inlay pieces which have survived with Mr.
If only you knew how many of Mr. The hallmark could have worn away over the years of normal wear.
That's what metals do-they wear down, erode, rub out, get thin and the hallmark will eventually disappear. This is your chance to own an original and rare Native American masterpiece from a truly talented and gifted man! THANKS FOR LOOKING AND HAVE A GREAT DAY!!!
Not very exciting to read, but just in case you need to know. If you need more time, please contact me. Information as to the origin or authenticity of items is searched. The most accurate description is in the pictures, so please review them carefully.
Unless otherwise noted, everything I sell is vintage, antique, used, secondhand, and will have fair wear. All items are packaged carefully to the extent required for each item. Please contact me immediately if there is a problem to receive proper instruction for return.
Each jewelry box comes equipped with a 3M Anti-Tarnish Paper Tab measuring 1x1and is good for up to 30 cubic inches of air space. The strips will protect silver, nickel, copper, bronze, brass, gold, and pewter for up to 6 months depending on the frequency and amount of exposure to air. One tab can last up to one year in a sealed airtight environment. Safe to use, these paper tabs are non-toxic and do not emit any chemical residues.